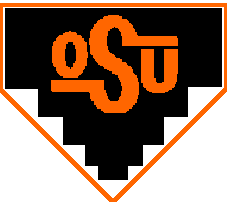 Home of the Cowboys & the Cowgirls
Oklahoma State is a fun school where most of the students are friendly and the Greek system, while present, isn't taken as seriously as schools like the University of Oklahoma and other southern schools. Any uni without the word "State" implies frat rat schools so cheer for those schools like Florida State, Of course OU is our great rival, and that's the one thing you gotta love about college sports as opposed to professional ones, brothers will dislike each other for a week because of this intra-state rivalry, wives won't speak to their husbands, brothers won't talk to their sisters, and so forth, really unhealthy stuff! Sometimes it's a taken a little too seriously and people will foresake friendships or do dumb things like bet a lot of money on their team (word of advice: never be emotional if you choose to bet, fastest way to go broke).OSU is located in Stillwater, an evergrowing town of close to 70,000, and situated almost equidistant between Tulsa and Oklahoma City and is the "red-dirt capital of the world!" It'd be a toss-up between Oklahoma City I suppose or the Red River, wow you talk about murky, I think it's why "The Mississipp'" is so brown, and the red dirt is very noticeable when it rains cause it find its way into the streets and reddens your car. When I was a student there the population was 45,000 people so Stillwater is busting a move, er, bustin' out at the seams at close to 100,000 now! I went there for a visit in Dec. 2001 and saw two Japanese restaurants, Stillwater with 2 Japanese restaurants? What's the world coming to!!!
Some noted facts, I had Garth Brooks in some of my journalism classes, I believe he was a public relations major, I was advertising and one thing I must admit regretting was not seeing him perform at some of the area clubs. My good friend said he did Dan Fogelberg covers better than Dan himself which is impressive because I liked Fogelberg's music. Anyway, he was always snoozing at our 7:30 advertising (ad layout) class cause he was playing at those honky-tonks til late at night!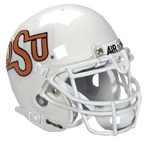 We have had some great athletes at Okie State, notables would include football alums such as the amazing Barry Sanders & the incredible Thurman (Thurmas) Thomas, Leslie O'Neal, R.C. McQuarters (Tulsa Booker T. Washington alum and current ChicagoBears DB); wrestlers and Olympic gold medalists John Smith (current head wrestling coach of Oklahoma State), Kenny Monday (another BTW alum) and Kendall Cross, John's older brother Leroy Smith, former head coach of Arizona State and younger brother Pat Smith, the first wrestler to win four consecutive NCAA titles; baseball players Robin Ventura, Pete Incaviglia and Jeremy Burnitz; former NBA players John Starks, Bryant "Big Country" Reeves and Richard Dumas, another Tulsa Booker T. Washington grad, and current Seattle Supersonics player Desmond Mason; and some very good golfers, e.g., Willie Wood and Scott Verplank. Former pro tennis star Lori McNeil attended school while I was there. One of the best collegiate baseball players OSU ever produced was my size and a super nice guy from Puerto Rico, Benji de la Rosa. He had Ichiro-like skills (could run, hit, hit w/ power, field and throw) but unfortunately, a bit before his time. Scouts didn't look at guys our size no matter if brothas like "us" were very good and put tremendous pressure on defenses.

If you're ever in the area, be sure to go to Eskimo Joe's for a tasty hamburger and sells what was the No.2-best-selling T-shirt in America (I now think the logo can be construed as racist, it's picture of an Eskimo [which is not a politically correct term anyway] with big buck teeth and very slanted eyes) or Mexico Joe's for some excellent Tex-Mex fare. If you're into sports see if the Cowboys or Cowgirls are ropin' any Sooners!!!