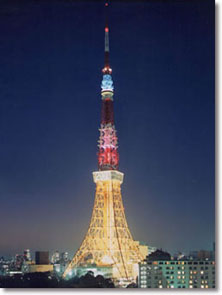 East Capital
Tokyo was formerly known as Edo and was made the nation's capital by Hideyasu Tokugawa. The Chinese characters literally means 'east capital' as the previous capital before Tokyo was Kyoto and before that Nara, both situated in the western part of Japan. Tokyo is comprised of 23 districts or wards known as "ku" in Japanese. The old part of the city, which has more charm, is situated on the eastern part of town and includes Taito-ku, Sumida-ku, and Bunkyo-ku.

The original residents of Tokyo are known as "Edokko" although the majority of the estimated 12.3 million people (which is almost almost 10% of Japan's total population) dwelling here now could not be considered as such. The registered number of foreign residents reached 327,000 as of October 2001. Tokyo is for the most part quite clean for a city of its magnitude and crime remains low. The mass transit system is quite efficient, buses and trains show up and depart on time!

With its well-known temples and shrines situated near massive skyscrapers and its mix of old and new in almost every neighborhood, Tokyo is a work of contrasts. Polite and rude, clean yet dirty, gray yet colorful, cloudy and sometimes sunny, rich and poor the city has a lot of energy but it can also drain it from one quickly!

Yet for the expat it is a very liveable city; although people who are active may get frustrated at the difficulty to get into nature at peak periods of travel, i.e. the weekends and holidays; convenient and services tend to be very good save for some restaurants.

The Tokyo Tower is one of the landmarks most noted about this city of 12 million. At 333 meters, it is the tallest edifice in all of Japan. Despite being 33 meters more than the Eiffel Tower, it is barely half the weight (4,000 tons vs 7,000 tons), due to advances in construction technology. The thing for me is the color orange, which idiot chose that color? It is not an appealingcolor and it is natural that the Japanese had to one-up the Frenchies by making it a bit taller than the Eiffel but does anyoneactually think the TT is a better looking monument that the eye-pleasing Eiffel?!