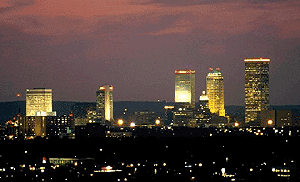 Tulsa was never really a cow town, but grew substantially after oil was found around its outskirts. It developed into more than a town by oil men and other adventurers searching for fortune - black gold or Texas tea as it were - and some certainly found it. Many people found riches in the city once known as The Oil Capital of the World.


A lot of money was made from the petroleum industry although it has since become less dependant on that sector; however, the economy is now struggling and finds itself becoming increasingly attractive to companies trying to fill low-paying jobs and crime is on the increase.


The infrastructure includes some of the best city planning found in any U.S city. Every major street east-west and north-south (56th Street North ~ 36th Str N; Apache ~ Admiral; 11th ~ 91st or whatever street south the city officially ends) is exactly one mile apart. The downtown area is separated by streets named after cities east and west of the Mississippi River with Main Street as the focal point. Streets named for cities west of the Mississippi River are located west of Main Street (Boulder, Cheyenne, Denver, Frisco, Houston, etc), streets named for cities east of the Mississippi River are located east of Main Street (Boston, Cincinnati, Detroit, Elgin, etc.). Neat, right?


Freeways run east to west, north to south and southeast to northwest. Some notable architecture can be found in some of the older office buildings downtown, in some of the older neighborhoods of Brookside and the Utica Square area, some mansions have elevators inside of the houses and lastly, Oral Roberts University.


The metro area now includes about 500,000 inhabitants encompassing a number of suburbs with names like Broken Arrow, Catoosa, Skiatook and Owasso, all Native American names. Tulsa is easily one of the nicest, most-livable cities in all of the United States. Notable sites to see if you are in the area are the world-reknowned Gilcrease Museum, which houses the largest collection of western art in the U.S., Philbrook Museum is listed in the top 50 art museums in the United States, and is one of only five museums with a unique combination of a historical home, art collections and gardens. Oral Roberts University (still looks like it belongs in Star Trek but was completed in the late 1960's!), a revitalized downtown area, the Brookside neighborhood, the area around Utica Square, there are many man-made lakes in the near vicinity, The University of Tulsa, various Native American cultural and historical sites abound and Driller Stadium to watch the Tulsa Drillers (Double A baseball club of the Texas Rangers, Colorado Rockies 2A franchise from 2003 season, heretofore Texas Rangers Double A franchise) Minor League Baseball at its finest. Many Texas Rangers players have passed through this oil town.

Not everything has been peachy keen about the city, there is a sad part lingering on Tulsa's history. The worst race riot in the history of America happened in my hometown, not far from where my high school, Booker T. Washington, is situated. Tulsa was once known as the Black Wall Street because of the large and prosperous black community until this riot occured, read more about it:

Tulsa Race Riot:
Professor Al Brophy's studyBlack Holocaust Societyrootsweb.com sitewww.asapnet.net/pclaser
from CNN's WebsiteUniversity of Pennsylvania sitewww.daveyd.com/blackwallpolitic.html

Better to study history so that it is not repeated! Unfortunately it seems people do not do this enough anymore...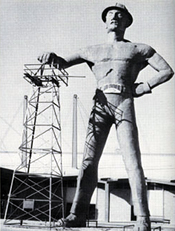 Other Tulsa linx:
Oklahoma Adventure Guide
Tulsa Historical Society
Helmerich & Payne: Very interesting site about a Tulsa-based oil companyTulsa Performing Arts CenterTulsa Philharmonic OrchestraTulsa OperaWill Rogers MemorialBrady TheaterOktoberfestIrish Festival of Tulsa
Tulsa WeatherLiving Arts OrganizationTulsa Airport
Port of Catoosa
Oral Roberts University
Williams Companies, Inc. (The)
Downtown Tulsa Unlimited
Metropolitan Tulsa Chamber of Commerce
Tulsa Global Alliance - A non-profit volunteer organization dedicated to increasing global awareness, understanding & opportunities in Northeastern Oklahoma by hosting international visitors and through other activities.
Oklahoma Jazz Hall of Fame
Tulsa Zoo