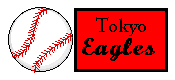 Tokyo Eagles is an amateur baseball club comprised primarily of expatriates from the United States; however, some of our players are foreigners (with Japanese mindsets! LOL) who grew up in Tokyo and attended St. Mary's International School. We also have a few interesting Japanese members, who are obviously a bit coo-coo for Cocoa Puffs wanting to play with the "jingai!" Jingai is a slang term meaning human pollution and the reverse (swap of Chinese characters) for gaijin, which means foreigner or outside person. Obviously joking about the human pollution thing! We represent or have represented the following countries: Australia, Canada, Philippines, India, United States, and of course our host country, Japan.

To visit the official homeplate for the Tokyo Eagles amateur baseball club:
Tokyo Eagles
The original team was founded by Mr. Yokoyama (changed his family name to Kato) who was working at the time for Tokyo Journal magazine. He placed an ad for baseball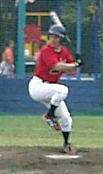 players in the rag and was able to secure sponsorship with Mazda Motors during Japan's economic bubble. The original version of the Tokyo Eagles were not, shall we say, great, and they lost many games to average ~ poor Japanese teams. The team, in the beginning, was constantly in the mass media and appeared in numerous TV programs, magazines and newsletters.

Bill "The Kid" Bickard, who is the last remaining original member still active, deserves a special salute. The team was in the dumps after Mr. Yokoyama pulled out after about 5 years of being the manager, but Bill, having a great desire to play, arranged opponents and fields, called guys to make sure there were enough players,recruited a few ladies to be team managers, and many of the other duties required. The Tokyo Eagles would have folded around 1990 if not for Bill, so all players owe something to him for seeing it through!

The current team plays 40-50 games a year (thanks to this crazy guy managing, Steve "da Red Rocker" Harrell, mostly on Saturdays &/or Sundays, and occassionally on national holidays, in the greater Tokyo metro area. The win ratio for the past few years is around 85/90% and our opponents are predominantly Japanese club and company teams who have the desire to see how they stack up us, which is to say, not very well the past 10 years or soo!

The baseball we play with is a limited-flight (limited because it's soft) rubber ball a tad bit smaller than a regular hardball. It's much, much, mucho harder to hit, because if you don't hit the ball squarely it spins in the air in an oblongated shape and there are tons of popups, usually to the catcher, whereas with a hardball those would at least get to the outfield, therefore, the outfield, is the least interesting place to play in "poop butt" baseball. This ball is harder to throw curves and sliders, because of the lack of raised seams, or in the Japanese summers where humidity is often 70-90%, brutally muggy. We have play some regular baseball (hardball), tourneys & doubleheaders against YC&AC (Yokohama Country & Athletic Club) which is more fun.