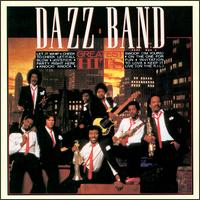 My favorite bands of all time are the jazz-dazz funksters from Cleveland, the Dazz Band, and the original fun band, Lakeside who were also from Ohio, Dayton to be exact. But before I get to that point in time let me back up a bit...


One of my earliest experiences with music, er probably the first song I memorized to heart was hearing Stevie Wonder's "Sunshine of My Life", which I always thought was entitled The Apple of My Eye, when I was in elementary school around the 5th grade. My mom had just come back from Japan for the first time in over 10 years and brought back a Sharp transistor radio for my brother and I (I was probably the first kid in north Tulsa to have his own transistor radio), and I would listen to that for hours on end walking back home from school and at night before I fell asleep. I remember thinking this white guy (LOL!) can sing pretty well and learned to love Stevie Wonder's early works. Of course before that my parents were listening to Boots Randolph, Herb Alpert & The Tijuana Brass, Simon & Garfunkel, and Roger Miller on vinyl. Of all the country music I have heard since, which isn't much, I love Roger Miller's music the most, it is hilarious. Miller was originally from Oklahoma so we liked him even more after learning that tidbit.


In junior high I went thru a rock-freak stage, but all the while hearing a lot of R&B, they were always playing Marving Gaye's "Let's Get It On" in the girl's gym and I always loved that song. Those early influences help determine a person's likes and dislikes later in life IMO. Groups like Kiss, Aerosmith, Blue Oyster Cult, Queen, etc. filed through my album collection and I still like some of that music but my passion grew towards "black music." If you don't want your kid to grow to like this style don't them listen to it, well, it's almost impossible these days because of the spread of mass media and the Internet, so don't even try!


But it's great, some of the lyrics of today can be controversial &/or not positive in my view but the stuff from the 70s and 80s was mostly positive, love-oriented,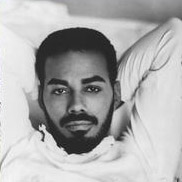 tight music and choruses, and of course the vocals! My, my, my, as Johnny Gill said, black music to me is all about passion, the passion for life and love, and struggle brings out the talent. There can be no denying that slavery spurred black people to sing to try to encourage each other to keep surviving when it life was very cruel. I think this manifested itself over the years to families encouraging their children to better themselves through music and of course the churches were there to showcase it and the music just grew from there to becoming per-capita wise, the strongest genre in the world.

My favorite vocalist is the great James Ingram who is also mean on the keyboards. I once saw Ingram in concert in Tokyo and he sang a tune a cappela, without a mike in a fairly large hall and what was amazing was the the volume and range he showed. And to think he wanted to be the next Jimmy Smith (jazz piano great), not the next great male vocalist. I'll list my Top 10 vocalists on here in due course.

Locally in Tea Town the Gap Band ruled with such jams as Burn Rubber. And Tulsa ate those guys up, as did much of the rest of the country, Gap actually was an acronym for the streets: Greenwood, Archer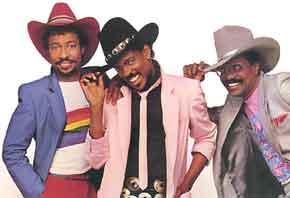 and Pine, near where the Black Wall Street used to be located.

I will in the near future post some comments about some of my favorite artists in the black music genre, stuff I was exposed to as a kid growing up in racially mixed schools. There was the time when my parents went bowling every Saturday night and as a reward of having to hang out at the alleys late they would always let my brother and I stay up to watch Soul Train and eat Arby's sandwiches! Maybe that's why Paul and I could always dance fairly well, we were always copying the Soul Train dancers!

In due course I'll be providing profiles about artists such as S.O.S. Band, Sun, Raydio, Brick, James Ingram, Shalamar, Cameo, Heatwave, Zapp/Roger, Rufus, Ohio Players, Midnight Star, Parliament, Chic, The Stylistics, The O'Jays, and others.

I have in the past 5 years or so, also gained a passion for Latin American music. Luis Miguel is my man there, he's great for making the ladies melt in a brother's hand. Very romantic music so if you're looking to put some spice in your love life or if you're a frantic romantic like I am he's the guy whose CD you must have. I recommend the "Greatest" 3-CD collection which encompasses some of his earlier works and some of his best love songs. If you buy it and don't like it there's something wrong with you. Absolutely love the Gipsy Kings and Patricia Manterola, a good singer and a fine-looking Mexicana! Paty makes a brother go, "Whoa!" Some good uptempo stuff comes from Proyecto Uno and Tonny Tún Tún. And of course by now everyone knows of the talented Colombiana, Shakira by now, who is by the way half-Lebanese (like super model Yamila Diaz-Rahi). The Latin American + Lebanese combo is a lil sumthing sumthin! Shakira is a great dancer as well.

In the Gospe/Christian genre I like DC Talk, Kingdom, and Sounds of Blackness but if one goes back far enough my favorite album was performed by Louis Johnson (of The Brothers Johnson fame), his wife and another dude whose name I don't know entitled Passage. There was also a group called World's Midnight which I had on cassette and is excellent, I wore the magnetic particles off that mug. But I'm a bit out of the loop in this genre. Any suggestions, holla dollar!

Speaking of dancing, if you've never seen the movie Breakin' (1984) I highly recommend it just to see Michael "Boogaloo Shrimp" Chambers (Turbo) turn it inside out. The scene where he dances with a broom is outstanding, magical and a very good display of body control. Ginuwine actually copied Chambers' moves for one of his videos, name of song somehow forgotten. Ginuwine and Usher I think are the best dancers in the music scene today. Simply great athletes because great athletes are all about great body control. Michael Jackson brought us some unbelievable displays of dancing talent but I think Chambers is the best dancer I've ever seen.

The lines from Breakin' are a bit cheesy, but don't watch it for scenerio, watch it for the dance scenes. The music is also great and from a long-gone era. Adolfo "Shabba-Doo" Quiñones (Ozone) also showed some mad skillz , as did their main competitor in the movie, Bruno "Pop N' Taco" Falcon. People still use breakin'-type moves in videos and concerts and what-not but one doesn't really see break dancers around these days per se and that's a bit sad, because in my mind the people doing it were great dancers. It'll make a comeback though...watch!

Some links to check out:
Average White Band - They were anything but!!! Cut the Cake!
The Isley Brothers - Led by one of the smoothest vocalists of all times, Ronnie Isley, they put out some great music and still do!
Hall & Oates - They put tons of songs I grew up on, good stuff.
Zapp - Led by one of my favorite artists of all time, the late Roger Troutman (R.I.P.)
The Whispers - Super smooth music led by the twins, Walter and Wallace Scott!
Teena Marie - Unofficial site of the soul diva, this lady can belt it out.
Minnie Riperton - Plain and simply: the voice was angelic.
Chaka Khan - Love her voice and she used to be a major hottie back in the day!
Earth Wind & Fire - The singing combo of Philip Bailey and Maurice White is one of the best of all times. Some of their songs was too commercial for my tastes but some was the best music ever made.
Leon Sylvers - This guy wrote and produced tons of hit records including stuff for Lakeside.
Rhino Records - Issues re-releases and compilations of old-time, back-to-the-old-school stuff for your funky mind!
Zapp & Roger - Nice site of the Ohio funkadeers led by the late Troutman brothers, Roger and Larry (R.I.P.).
PATRIKS soul/funk special - In Swedish and English, this site contains a lot of great content about soul and funk music from the late 70s to mid 1980s. Does this guy have a collection of music or what? I'm impressed!
SoulWalking - If there's a better website than this, as far as background info, profiles anddiscography of many soul, RnB, and funk artists, please let a brother know. Whoever made this website put a lot of time into it and let's hope it never goes offline. Thanks and a salute to you!
Michael "Boogaloo Shrimp" Chambers - The best dancer of all time, as so proclaimed by yours truly.
Skip Martin - Official site of the tenor, and former lead singer of Dazz Band and Kool & The Gang.