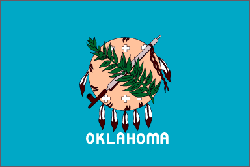 Oklahoma - The 46th State
Oklahoma comes from the Choctaw words: "okla" meaning people and "humma" meaning red, so the state's name literally means red people. Oklahoma has the largest Native American population of any state. Many of the 250-thousand plus Native Americans living in Oklahoma today are descendants from the original 67 tribes inhabiting Indian Territory. Thirty-nine of the Native American tribes currently living in Oklahoma are headquartered in the state.

The state flag honors the sixty different groups of Native Americans residing in Oklahoma. The blue background comes from a flag carried by Choctaw soldiers during the Civil War. The round image in the center is an Osage warrior battle shield. It is made of buffalo hide and decorated with eagle feathers. Two symbols of peace rest on the shield. One is the calumet (or peace pipe) and the other is an olive branch. The crosses on the shield are Native American signs for stars. The state's name was added in 1941. The flag was designed by Mrs. Louise Funk Fluke, an artist from Oklahoma City.

Some facts about Okla Humma:
Comprised of 77 counties.
Forests cover approximately 24 percent of Oklahoma.
Has more man-made lakes than any other state, with over one million surface acres of water and 2,000 more miles of shoreline than the Atlantic and Gulf coasts combined.
The highest point in the state is Black Mesa in Cimarron County (4,973 feet); the lowest is due east of Idabel (the town where I was born! Does it affect one's brain to be born at low altitude?!, LOL!) in McCurtain County (287 feet).
Has 43 colleges and universities.
The third largest gas-producing state in the nation.
Ranks fourth in the nation in the production of all wheat, fourth in cattle and calf production; fifth in the production of pecans; sixth in peanuts and eighth in peaches.
Oklahoma's four mountain ranges include the Ouachitas, Arbuckles, Wichitas and the Kiamichis.
Oklahoma is bordered by six states: Texas to the south and west, Arkansas and Missouri to the east, Kansas to the north and Colorado and New Mexico at the tip of the northwestern Oklahoma panhandle.
Oklahoma has a land area of 69,919 square miles, which ranks as 18th in the nation in size.
According to 1990 U.S. census data, Oklahoma's population is 3,258,000. Of those, 82.1 percent are white, 8 percent Native American, 7.4 percent African American, 2.7 percent Hispanic and 1.1 percent Asian.
Oklahoma produces quite a number of professional and collegiate athletes. The main reason is almost every child in Oklahoma grows up playing at least one competitive sport unless the person has no athletic ability whatsoever. Oklahoma is easily one of the most competitive sports societies in all of America, it's something we like to do to spend our time, i.e., there's not much else to do! The most popular sports are baseball, American football, basketball and wrestling. It's emphasized in families and by society. A list of famous athletes who have once graced our state would be a monster list!

The two largest universities are Oklahoma State University, home of the Cowboys (formerly known as Oklahoma A&M) and the University of Oklahoma (the the Bad Guys) whose former president, Frank Cross I believe, reportedly said: "I want to build a university the football team can be proud of." You gotta love that, at least laugh at its preposterousness, even if you're not a fan of the Sooners! I used to be, until I did a semester there. I had the pleasure to see the great Barry Sanders and the great Thurman (Thurmas) Thomas both do some jukin', shakin' and even a little bakin' at my alma mater, Oklahoma State University, formerly known as Oklahoma A&M. But as much as I now dislike them, the University of Oklahoma did produce the most exciting college football player ever in RB Joe Washington! The guy was simply amazing and more than a few times saved his team, when I was still a fan, by juking 10/11 defenders on punt returns and kickoffs. He once hurdled a Texas defensive back just in front of the endzone to score a touchdown but the following year the NCAA made it a penalty to hurdle a defender. I wish they would produce a highlight reel of Washington's runs, he was simply out of this world...

Oklahoma is really, as far as its background about Native Americans and the impact its peoples have made with contributing to the formation of the total American culture and all of the various subcultures which contributed to that foundation. If not for the Native Americans, Oklahoma and the U.S, would be a shell of the place it is today. Natives saved many Euros from starvation when they first landed on U.S. soil and ran out of food. Let's stop using the term Indians, just because Columbus was confused doesn't mean we must all follow in his footsteps. I don't think he had any ill will but his mistake has caused confusion in our conversations with regards to Asian Indians (people from India) and Native Americans. Another thing, the mascot for the Washington Redskins is in fact VERY racist, do you think it would be possible to have a team called the Miami Blackskins or the Atlanta Whiteboys???!!!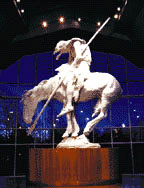 Many Natives now in Oklahoma were displaced from other parts of the country, including the Cherokee Nation, forced to move by a racist, back-stabbing U.S. President. The Tennessee Volunteer Andrew Jackson, whom we choose to honor by putting his ugly mug on the $20 bill. The Cherokees actually helped Jackson and the Volunteers fight the Choctaws in order to gain favor so as to not lose more of their land to white settlers. Jackson's decision to move the Cherokee Nation caused untold thousands of deaths to the Cherokees, during the Trail of Tears. This is another shameful chapter in our country's history and in my opinion a U.S. president should make a formal apology to all Native Americans. It's not that we, Americans of the modern era, are directly responsible but many of our descendants were, and brought diseases unknown to the North American continent, which killed more Natives than any wars or battles fought with guns, knives and bows & arrows. It has been estimated that over 70% of Native American populations were decimated by diseases brought over by Europeans!!!

An official apology by a president would go a long way to healing wounds which might solve some problems on reservations. Growing up in Oklahoma you can see a lot of Natives abusing alcohol and you can hear parents teach their children to look down and even dislike Native Americans and condemn them, and Native American culture is slighted everywhere. How very wrong and hypercritical for people to feel and act this way!

Native Americans have great cultures that form the basis of to making the U.S.'s one of the richest on the planet. An untold number of people have told me that the U.S. doesn't have any culture. Well, first you have to define culture and if that means a painting hanging in the Louvre then you are misguided, that is NOT culture it is but a small part of it. Understand the term and then you might change your mind that Europe has all the culture, try Asia as well. The Native American community was founded on respecting elders, the Earth and its resources, and great community commeraderie. Ceremonial dances and socializing were an important aspect of N.A. society, the food, art, fashion and handicrafts were testaments to these people's ingeniuty. I've learned to respect and admire it over the years, after learning the true story and the true history, which is not really taught in our public schools or by the media. I will add more links about this in the future but I highly recommend the documentary "How the West Was Lost" produced by the Discovery Channel.

For more on the history of Oklahoma: History of Oklahoma

Oklahoma Links:
Oklahoma City Redhawks - Texas Rangers Triple A farm club.
Tulsa Drillers - Former Texas Rangers franchise became the Colorado Rockies Double A farm club from the 2003 season.

Universities
American Christian College & Seminary - Located in Oklahoma City.
Cameron University - Is in Lawton.
East Central University - Situated in Ada.
Langston University - Located in Langston, founded as a black university.
Metropolitan College
Mid-America Bible College - Located in Oklahoma City.
Northeast State University - Located in beautiful Tahlequah.
Northeastern Oklahoma A&M (NEO)- I attended this juco located in Miami for three semesters. It can be a lot of fun, good peeps!
Northwestern Oklahoma State University- Situated in the former dustbowl town of Alva!
Oklahoma Baptist University - Is located in Shawnee.
Oklahoma Christian University - Located in OKC.
Oklahoma City University - Ditto
Oklahoma Panhandle State University
Oklahoma Wesleyan University - Located in Bartlesville.
Rogers State University - In Will Rogers country, Claremore.
St. Gregory's University Also in Shawnee.
Southeastern Oklahoma State University - Located in Durant.
Southern Nazarene University - Campus in Oklahoma City.
Southwestern Oklahoma State University - Located in Weatherford, has a good pharmacy school.
Spartan School of Aeronautics - My father attended this Tulsa-based flight and aeronautical training school.
University of Central Oklahoma Located in the OKC suburb of Edmond.
University of Oklahoma Health Sciences Center - Based in Tulsa.
University of Phoenix - Tulsa
University of Science & Arts of Oklahoma - Situated in Chickasha.